Refillable gas tanks.

Bulk refillable gas tanks are available in various different sizes, underslung and upright.
They can be refilled with Autogas Propane which is becoming more and more available at petrol stations throughout the UK and the continent at a fraction of the price of swapping your cylinders in the usual way.
With current prices it takes approximately 20-25 fills to recoup the outlay.

You can take this any way you like.
But everyone I fit a gas tank or cylinder for, without exception tells me that the gas lasts longer from a refillable tank than from the normal cylinders that you swap.

I only fit Stakko and Alugas tanks as they have the best safety and operating features.
All the tanks I fit have an 80% fill valve so you cannot over fill them.
All Stakko tanks have a mechanical gauge which can be replaced with a remote electronic gauge.
Alugas cylinders now have a float gauge.


Please beware.
The tanks I supply have a safety valve at the fill point on the tank which closes if the fill pipe is suddenly opened or broken as in the case of an accident.
The potential consequenses of using a gas tank which does not have this valve are unthinkable, but they are sold.
Always ask the question!!
Do the tanks you are buying have this valve?

Under slung Horizontal, Bulk refillable Tanks.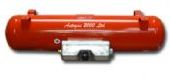 Available in sizes from 35L to 100L.
The price shown is for the unit fully fitted to your existing gas system with filler point, hose and a remote gauge.

Upright refillable cylinders.

I supply and fit Alugas, Practo and Gaslow cylinders.
Price and availability is constantly changing so please give me a call
in plenty of time.






Usually supplied as a 26L/11kg tank. But also available in smaller sizes.
As with the under slung tanks the price shown is for the units fully fitted to your existing gas system with filler point and hoses.
Depending on the age and type of system you have it may be necessary to fit a new regulator and/or gas pigtails.
Please give me a call for further information.

To get the actual amount of gas inside the tanks, you must first of all find 80% of the capacity of the tank and then divide by 2 to get an approximate value in kg.

So for instance, for a 60L tank. 80% of 60L is 48L divided by 2 comes to 24, which is approximately 24kg.

The filler which I supply is good for the UK, Spain and Holland.
There are other adapters which cover all the other countries in europe, available seperately.


Sizing your under slung tanks.

There must be a suitable means of mounting the tank cradle to the underside of your vehicle and approximately 300mm of space between the bottom of an underslung
tank and the road surface.
I find that the easiest way of finding the correct size and feasibility is for me to see the vehicle but in the first instance look under the vehicle and measure what looks to be the largest space.

For information on sizes or for a visit please call me on
07528784180 or email info@motorhometech.co.uk

You may also want to visit.
www.autogas.co.uk
They have an extensive online shop for your gas tank needs.